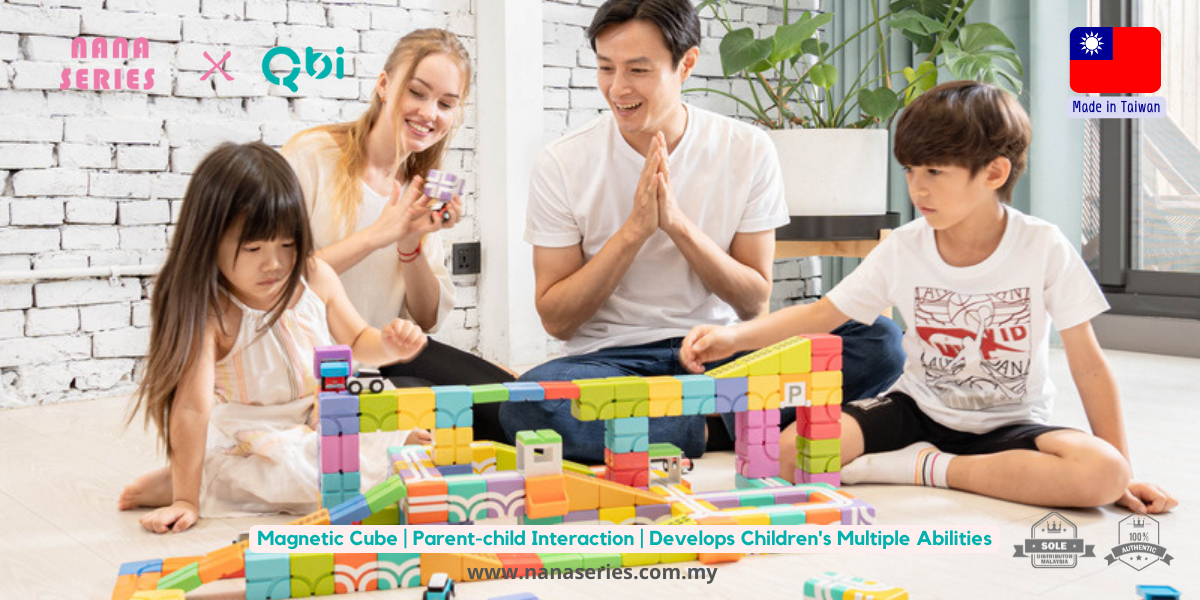 Nana Series X Qbi
The Birth of Qbi|Play and grow together
Established at the end of 2016, Qbi is composed of a group of young Taiwanese parents.
Qbi believe that toys serve as the best bridge for children in cultivating relationships. Not only can toys stimulate imagination and creativity, but they can also enhance parent-child interaction through diverse and creative methods. Therefore, Qbi is committed to designing and developing products that can provide interactive experiences. In the future, Qbi hopes to develop a world made of modular block toys where parents and children can play and learn together.
The most suitable educational toy that adults and children can play together
The Qbi prointellect magnetic track toy was developed in two years and is designed to enhance parent-child interaction. To make children's toys fun, adults should also join in and play.
Qbi combined three elements that children love: track, toy cars, and magnetic blocks that can be played a thousand ways.

Simple and easy to learn, lets you use your imagination
Qbi is an educational toy-track composed of six different tracks. Several blocks are connected by a magnetic force and there's no issue of magnetic repulsion. There are no restrictions when playing; as long as you have the magnetic blocks, you can begin playing whenever you like!
Enjoy playing this challenging game by simply connecting the Qbi blocks together. No need for instructions; newbies can become master builders in one second.
---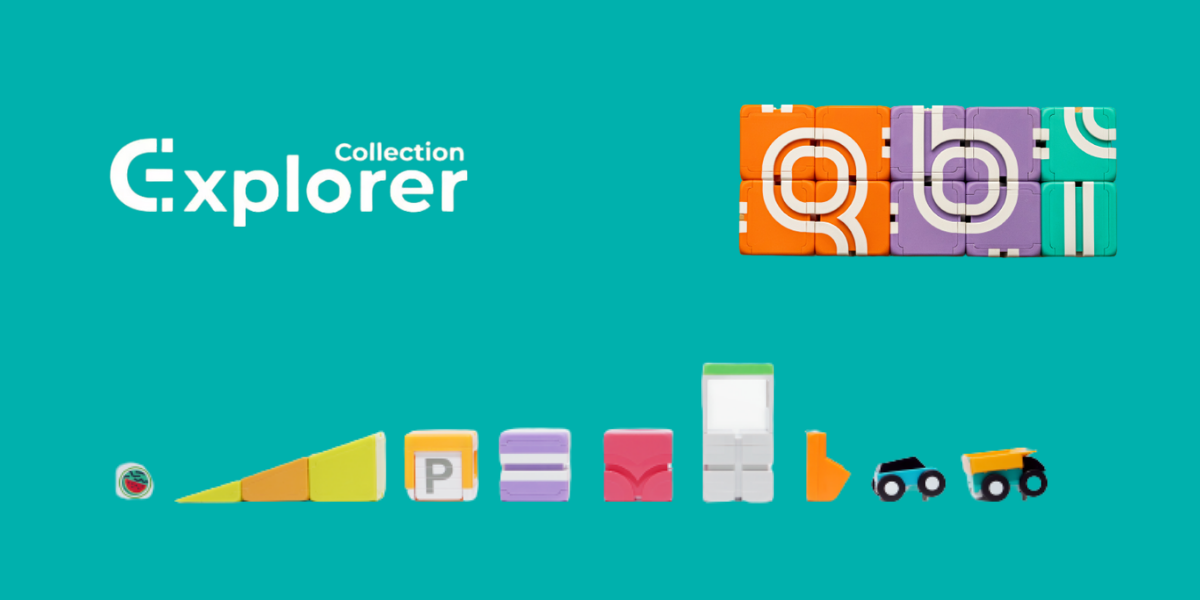 Explorer Collection|Age-specific design - Choose the right combination for your child.
The Explorer Collection offers 2 combinations:
● Suitable for 2-4 years old (Preschool)
● Suitable for children over 5 years old (Kids)
Each combination is paired with different accessories, designed to provide different play experiences for children of all ages! From toddlers to pre-schoolers, everyone can have fun with Qbi.
---
Preschool Series|Let 2-4 year-olds play together
Designed for children aged 2-4.
All new pull back pickup truck + supermarket accessories set and new magical fruit delivery! White track design that can help develop children's visual tracking ability.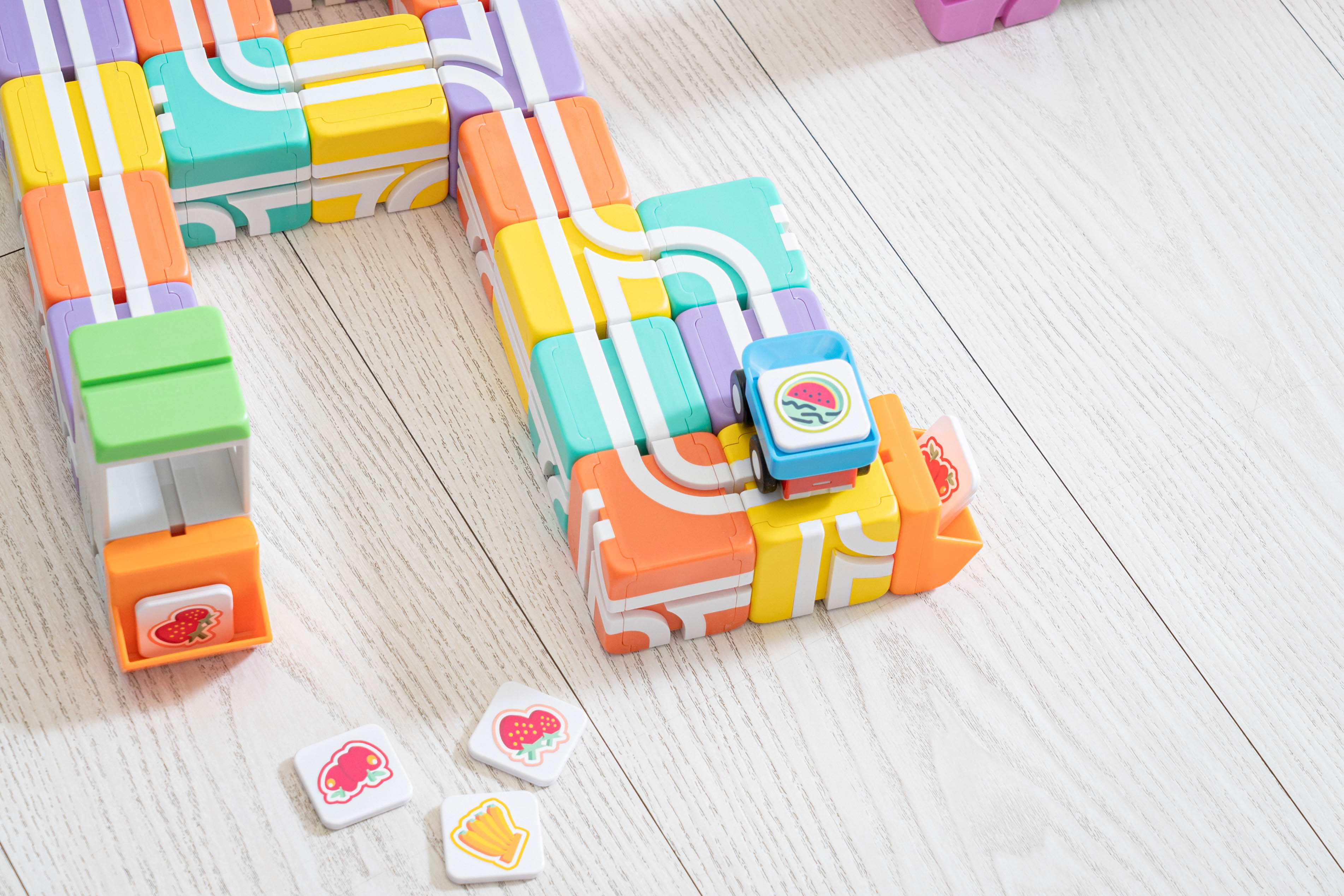 ▲ The pull back pickup truck is not only easy to operate, but also stable and durable. It can run 50 to 60 blocks at a time. This design is ideal for pre-school children.
▲ New accessory! Super market Set.Super eye-catching design with strong magnetic absorption that lets the traveling pickup truck with fruit card leave its cargo at the supermarket. A child can perform a magic trick when playing Qbi with a friend.
| | |
| --- | --- |
| | Qbi Explorer- Preschool Plus Pack |
---
Kids Series|Challenge with 5-year-olds
Designed for children over 5 years old.
The new bouncing bridge is more challenging and can be set up a thousand ways! The colorful blocks have a stronger magnetic force and are suitable for vertical connection, perfect for track extensions.

▲ To let children enjoy more challenges, there is a wide array of exciting accessory designs.
▲ The new bouncing bridge is composed of three cubes (1/3 of the size of a block), making the track more challenging.
| | |
| --- | --- |
| | Qbi Explorer - Kids' Plus Pack |
| | Qbi Explorer - Kids' Mini Pack |
---
Real MIT Taiwan design and manufacture, with international certification
The entire product line has passed European and American toy testing regulations and has the same quality assurance standards as LEGO. It uses safe and non-toxic ABS plastic as its main material. It has passed the most stringent EU EN71/American ASTM toy testing standards, so parents can rest assured.

---
Qbi's important milestones
2021- Sold 20,000 boxes worldwide and successfully exported to EU countries
2020- Selected as SBIR outstanding firm
2020- Won the Kids Design Award in Japan
2020- Selected by Education - Parenting Family Lifestyle as one of the Education and Innovations 20+ companies
2020- Obtained EU and U.S. design patents as well as Taiwan and Japan utility model patents
2020- Obtained the US STEM toy certification from Stem.org
2019- Successfully exported to Japan and South Korea
2019- One of the top three winners in the Startup Toys category at the Nuremberg Toy Fair in Germany
2018- Selected for SBIR Innovation, Stage 2 in the Small and Medium-sized Enterprise Division of the Ministry of Economic Affairs, R.O.C.
2018- Obtained invention patent in the Republic of China
2017- Selected for SBIR Entrepreneurship, Stage1 in the Small and Medium-sized Enterprise Division of the Ministry of Economic Affairs, R.O.C.
2020 - Won the Japan Kids Design Award
2019~2020 - Obtained the United States STEM toy certification (Stem.org)
2019 - Recognized as one of the world's top three New Toy Awardees in Nuremberg, Germany